We are H Mart, the largest Asian supermarket chain in America. Starting in 1982 with a single store in Woodside, Queens, H Mart has grown to include more than 67 stores across the United States. H Mart is America's premier Asian food destination and provides groceries and everyday essential needs as well as upscale products. H Mart offers a full line of Asian foods as well as a broad range of Western groceries to complement its full scale offering to that of a traditional supermarket. H Mart is also known for its innovative new food halls which are an extension of over 37 years of providing eateries in its stores.
About this Job
Payroll/Tax Specialist at H Mart plays an important role at our Human Resources department.
This position will process bi-weekly/weekly payroll with compliance to company policy and local, state, and federal laws and regulations.
Engage in processing, analyzing and reconciling payroll tax activities and serve as liaison both within and outside the organization on payroll tax matters.
Additional responsibilities include weekly, monthly, quarterly and annual audits for quality control and data integrity; outbound interfaces to tax vendor; and payroll processing support when needed. Serves as secondary backup for all payroll frequencies.
Oversees and ensures compliance for all wage garnishments.
Responsible for related business process documentation impacting the Payroll tax function, as directed.
Brings experience, shares ideas, and participates in all "process improvement initiatives".
As a member of the HR/Payroll Service Center, the incumbent provides excellent Customer Service and is committed to Advancing the Customer Experience.
Responsibilities, but not limited to:
Performs tasks to establish and maintain employee/payroll records. Maintains payroll system and processes payroll, including, but not limited to new hire set up, tax form processing, local taxes, time sheets review, direct deposit set up, benefits set up, relocation, voluntary deductions, terminations and garnishment processing.

Ensures that employee changes are entered correctly and made on a timely basis. Reviews changes for proper authorization and adherence to policy including compliance with federal/state/local regulations. May process time sheets and audits timekeeping records for compliance with established standards. Balances and controls earnings and deduction totals, inspecting automated system output such as registers and standard reports. Identifies and corrects out-of-balance conditions.

Receives and responds timely to telephone, e-mail inquiries and mail. Interprets payroll policies and procedures to company employees of all levels. Provides high quality service to employees and effectively resolves employee issues.

Researches and analyzes payroll/tax discrepancies and processes appropriate corrections.

Analyzes, audits, reconciles and resolves complex payroll, tax, and employee issues. Ensures payroll reporting and payments are compliant with company policy, generally accepted accounting principles, and federal, state and IRS regulations.

Researches and interprets federal and state regulatory requirements and resolves tax, withholding, garnishment, and wage/hour issues for payroll processing. Performs quarterly and annual balancing of wage and tax reports. Finds and corrects errors in a timely manner to ensure accuracy of payroll tax withholding, minimizing potential penalties.

Responsible for accurate set up and system maintenance of SUI rates, registration of new accounts when required and verification of SUI rates by work location. Calculates and sets up garnishments, levies, and family court orders in.

Coordinates efforts between payroll, human resources, finance, benefits, tax and other departments to ensure proper flow and maintenance of employee data. Coordinates with Finance to ensure the accuracy of payroll codes and general ledger account mapping in relationship to the payroll interface uploaded each pay period

Provides data for auditors and local, state or federal agencies as needed

Maintains payroll files and provide necessary reports or documentation according to Client' established procedures. Creates and maintains SOPs as needed; monitors procedures for accuracy and relevance
Qualification / Skills:
Associate Degree in Business Administration/Finance or equivalent level of knowledge in a relevant field

3+ years payroll tax experience performing all functions of payroll and tax

Excellent customer service skills with an ability to effectively handle and resolve employee inquiries and issues

Excellent skills using MS Word and Excel

Excellent problem solving/judgment skills, and high level of attention to detail and accuracy

Strong organizational skills, and the ability to work under pressure

Ability to handle and prioritize multiple tasks and meet all deadlines
Education & Experience Requirements:
APA certification/courses preferred

Ceridian Dayforce experience preferred

Enrolled Agent Certificate is preferred

Proficiency with Microsoft Office (Microsoft Excel, Microsoft Outlook)

Bilingual English/Korean is a must
Work Hours & Benefits:
MON-FRI, 9:00am to 6:00pm

Company provided Lunch

Health / Dental / Vision Insurance Coverage

PSL / PTO

Paid Holidays per company policy

Celebration & Condolence Benefits per company policy

Eligibility to use Company owned Resort per company policy

5% Employee Points program with H Mart Smart Card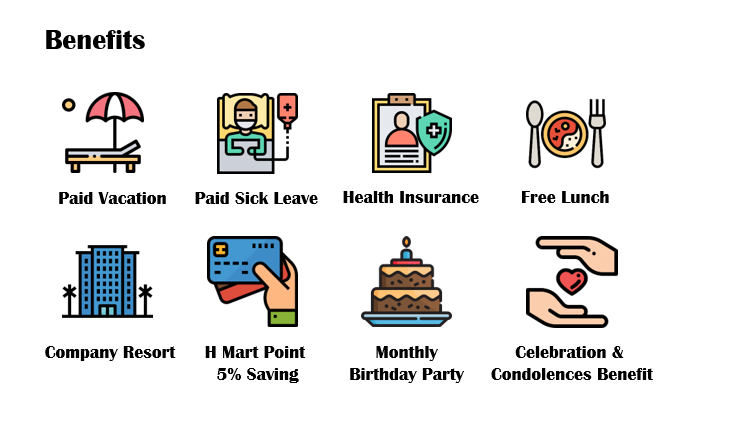 How to Apply
Please send your resume to careers@hmart.com
H Mart is an Equal Employment Opportunity Employer.

H Mart is committed to a policy of Equal Employment Opportunity and will not discriminate against an applicant or employee on the basis of age, sex, sexual orientation, gender, gender identity or expression, race, color, creed, religion, ethnicity, national origin, alienage or citizenship, disability, marital status, military status, status as a Vietnam Era or disabled veteran, or any other legally-recognized protected basis under federal, state or local laws, regulations or ordinances.

Applicants with disabilities may be entitled to a reasonable accommodation under the terms of the Americans with Disabilities Act and certain state or local laws. A reasonable accommodation is a change in the way things are normally done that will ensure an equal employment opportunity without imposing undue hardship on H Mart. Please inform our Human Resources Department or the Store Manager if you need assistance completing any forms or otherwise participating in the application process. All your information will be kept confidential according to EEO guidelines.
근무 상세 내용
고용형태: 정규직
지역: 뉴저지
근무요일: 주 5일(월, 화, 수, 목, 금)
근무시간: 09:00 am ~ 06:00 pm
급여: 면접 후 결정
접수방법 및 기간
접수방법: 온라인 접수, 이메일 (hrgrand@hmart.com)
접수기간: 상시채용