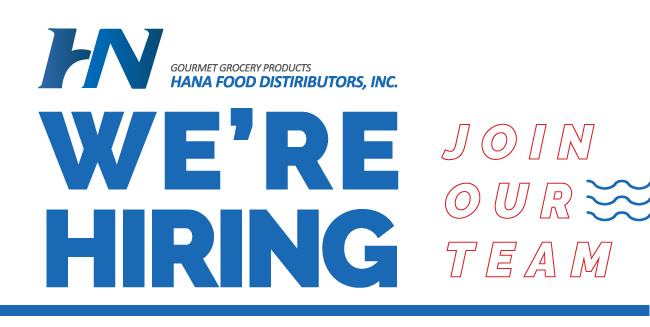 "Hana Food Distributors" in District Heights, MD is seeking Purchasing Specialist & Assistant
Hana Food Distributors is one of the largest organic, gourmet and specialty food and non-food distributors. With our focus on the mid-Atlantic region, we bring value to our customers by building strong business relationships and by delivering quality that people have come to expect from our products. Our customers include supermarkets, grocery stores, delicatessens, convenience stores, gas stations, newsstands, etc. In addition, we are developing further growth opportunities in online shopping business and innovative supply chain system.
If you are looking for a fast growing, passionate company that values both its people and its businesses, and has a winning track record, and even brighter future, this opportunity will be perfect to your job search!
---------------------------------------------------------------
#1. [ Purchasing Specialist ]
---------------------------------------------------------------
* Qualifications
Bachelor's Degree preferred

A minimum of 3 years of related experience

Practical experience with purchasing software

Sound research and networking skills

Ability to manage multiple priorities and work in a fast-paced environment

Able to use Microsoft Office applications (Word, Excel, Outlook, PowerPoint)

Language: English & Korean (Preferred)
* Responsibilities
Prepare and manage purchase orders

Purchase the highest quality merchandise at the lowest possible price and in correct amounts

Conduct research on potential products, vendors, and services, and compare price and quality to ensure the best deal

Write reports on purchases made and perform cost analyses

Monitor inventory and writing orders to refill stock

Working with customers, carriers, and warehouses to resolve issues with shipments

Inspect purchased products upon delivery and reporting any issues timely

Ensuring timely updates or shipment details and update system timely to meet deadlines

Analyze price proposals, and other data and information to determine reasonable prices

Monitor shipments to ensure that goods come in on time

Other duties as assigned
---------------------------------------------------------------
#2. [ Purchasing Assistant ]
---------------------------------------------------------------
* Qualifications
Associate's Degree or higher

0-1 year relevant work experience

Strong attention to detail, ability to multitask effective time management and organization skills

Able to use Microsoft Office applications (Word, Excel, Outlook, PowerPoint)

Language: English & Korean (Preferred)
* Responsibilities
Coordinates with suppliers and Corporate Purchasing to assure timely and cost-effective delivery of product

Maintain current on purchase orders and ETA information

Timely communication with suppliers and sales managers

Daily receiving of purchase orders

Manage shortage and damage claims

Monitor import orders, paper flow, etc

Follow-up with overdue supplier transfer invoices

Assist with warehouse receiving as needed

Contact vendors for quotes, lead times and shipping estimates

Other duties as assigned
---------------------------------------------------------------
* Work Location
* Benefits
* Schedule
* Benefit Conditions
* Work Authorization
* To Apply
근무 상세 내용
고용형태: 정규직
지역: 메릴랜드
근무요일: 주 5일(월, 화, 수, 목, 금)
근무시간: 09:00 am ~ 06:30 pm
급여: 면접 후 결정
취업비자 스폰서 가능
접수방법 및 기간
접수방법: 온라인 접수, 이메일 (hr_manager@hanafoodinc.com)
접수기간: 2020.09.17 ~ 2020.10.24