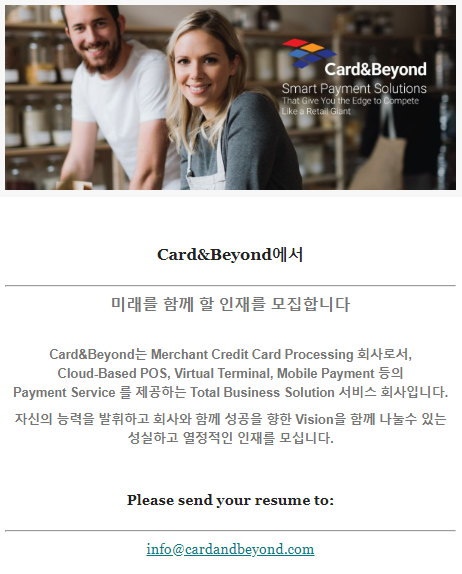 Position Description:
We are looking for an expert who is experienced in Digital Marketing and Public Relations
Further details will be discussed during the interview.
To be successful in this role, you should have hands-on experience with web analytics tools and be able to turn creative ideas into effective advertising projects. Ultimately, you will help us build and maintain a strong and consistent brand through a wide range of online and offline marketing channels.
주요업무
Develop and manage digital marketing campaigns across multiple channels utilizing tools and techniques as appropriate including e-mail marketing, SEO and PPC

Executing tests, collecting and analyzing data, identifying trends and insights in order to achieve maximum ROI in paid search campaigns

Tracking, reporting and analyzing website analytics, pay-per-click (PPC) initiatives and campaigns

Optimize copy and landing pages for paid search engine marketing campaigns

Perform ongoing paid keyword discovery, expansion and optimization

Research and analyze competitor advertising links

Lead the development of the social media presence

Develop strategies and tactics to get the word out about our company and drive qualified traffic to our front door

Deploy successful marketing campaigns and own their implementation from ideation to execution

Experiment with a variety of organic and paid acquisition channels like content creation, content curation, pay per click campaigns, event management, publicity, social media, lead generation campaigns, copywriting, performance analysis

Produce valuable and engaging content for our website and blog that attracts and converts our target groups

Build strategic relationships and partner with key industry players, agencies and vendors

Prepare and monitor the marketing budget on a quarterly and annual basis and allocate funds wisely

Oversee and approve marketing material, from website banners to hard copy brochures and case studies

Measure and report on the performance of marketing campaigns, gain insight and assess against goals

Analyze consumer behavior and adjust email and advertising campaigns accordingly

근무조건
고용형태: 정규직

근무요일: 주 5일(월, 화, 수, 목, 금)

근무시간: 9:00 am ~ 6:00 pm

급여: 추후협의

급여방식: 연봉

Medical Insurance

Sick days & Paid Vacation
지원자격
Proven SEM experience and success managing PPC campaigns across Google, Yahoo and Bing

Experience of digital marketing at strategic and hand on operational level including SEO, e-marketing, social media and analytics

Well-versed in performance marketing, conversion, and online customer acquisition

Up-to-date with the latest trends and best practices in search engine marketing

In-depth experience with bid management tools

Strong analytical skills and experience generating SEM reports

Working knowledge of HTML, CSS, and JavaScript development and constraints

BS/MS degree in Marketing or a related field and minimum 1~3 years of related experience in search engine marketing
근무 상세 내용
고용형태: 정규직
지역: 뉴저지
근무요일: 주 5일()
근무시간: 09:00 am ~ 06:00 pm
급여: 면접 후 결정
취업비자 스폰서 가능
접수방법 및 기간
접수방법: 온라인 접수, 홈페이지 접수, 이메일 (info@cardandbeyond.com)
접수기간: 2022.01.05 ~ 2022.03.06