About H Mart
H Mart is an Asian-American supermarket chain that has been in business for over 30 years, specializing in Asian and Western groceries, fresh/frozen meats, seafood and produce.
65 H Mart stores in 12 states are operated by five modern warehouse/distribution centers, one primary food processing facility, and over 4,500 passionate employees that have supported each store every day.
Job Title: Employee Relations Specialist
About this job
H Mart is looking for a talented Employee Relations Specialist who is able to speak Spanish. S/he will be in charge of communicating with all employees from new employees to senior leaders in both headquarter and stores. Also, Employee Relations Specialists should make training materials and conduct training for store-level employees.
Responsibilities, but not limited to the following:
Serve as a link between management and employees by handling questions, interpreting and administering contracts and helping resolve work-related problems.

Perform difficult staffing duties, including dealing with understaffing, refereeing disputes, firing employees and administering disciplinary procedures

Research, design and implement learning and development programs

Discover gaps in current learning plan and develop a variety of training materials

Continuously reevaluating and updating programs as necessary

Plan and conduct new employee orientation to foster positive attitude toward organizational objectives

Document all investigative activities

Interview witnesses or suspects and take statements
Job Qualifications:
Strong written, verbal, presentation and persuasion skills in Spanish is required

Knowledge of labor laws is a plus

Domestic travel required
How to Apply:
Send your resume to hrgrand@hmart.com.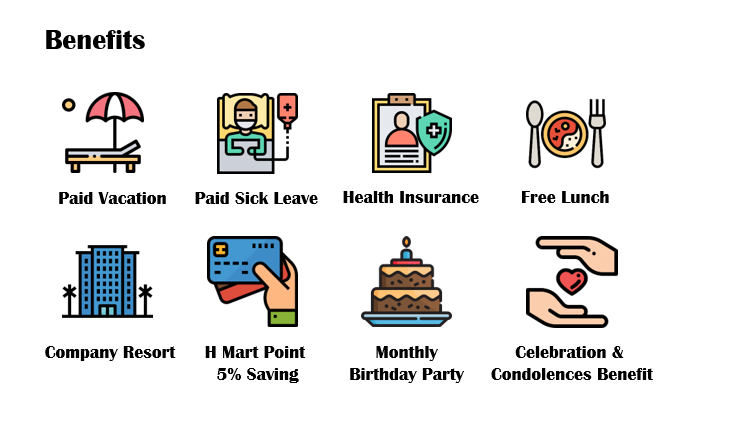 근무 상세 내용
고용형태: 정규직
지역: 뉴저지, 뉴욕, 시카고
근무요일: 주 5일(월, 화, 수, 목, 금)
근무시간: 09:00 am ~ 06:00 pm
급여: 면접 후 결정
접수방법 및 기간
접수방법: 온라인 접수, 이메일 (hrgrand@hmart.com)
접수기간: 상시채용