About H Mart
H Mart is an Asian-American supermarket chain that has been in business for over 30 years, specializing in Asian and Western groceries, fresh/frozen meats, seafood and produce.
65 H Mart stores in 12 states are operated by five modern warehouse/distribution centers, one primary food processing facility, and over 4,500 passionate employees that have supported each store every day.
Job Title: Marketing Coordinator
About this job
H Mart is looking for a competent and passionate Marketing Coordinator. S/he will coordinate and conduct events that promote H Mart brand and new open stores. Also, S/he will communicate with customers by phone, e-mail, and social networks.
Responsibilities, but not limited to:
Implement marketing and advertising campaigns by assembling requirements; preparing marketing and advertising strategies, plans and objectives; establishing contacts; developing schedules and assignments
Keep promotional materials ready by coordinating requirements with graphics department and media partners
Assist with the coordination, production and distribution of print and online advertisements, press related materials
Research and manage media by identifying and evaluating media coverage, brand power
Accomplish organization goals by accepting ownership for new and different requests; exploring opportunities to add value to job accomplishments
Collect and analyze food distribution market information to help companies determine their position in the marketplace
Gather data on competitors and analyze their prices, sales and method of marketing and distribution
Collect and analyze data on customer demographics, preferences, needs and buying habits to identify potential markets and factors affecting product demand
Prepare reports of findings, illustrating data graphically and translating complex findings into written text
Job Qualifications:
Candidates must be eligible to work in the U.S.
Bachelor's degree in the related field is required
Excellent communication skills
Budget-management skills and proficiency
How to Apply
Please send your resume to hrgrand@hmart.com.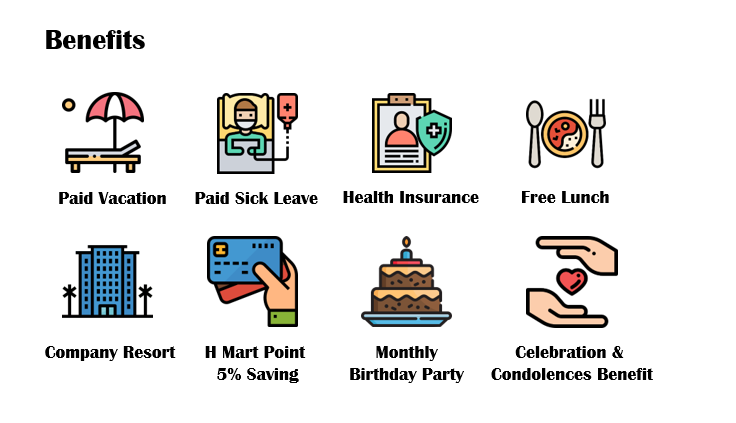 근무 상세 내용
고용형태: 정규직
지역: 뉴저지
근무요일: 주 5일(월, 화, 수, 목, 금)
근무시간: 08:00 am ~ 06:00 pm
급여: 면접 후 결정
취업비자 스폰서 가능
접수방법 및 기간
접수방법: 온라인 접수, 이메일 (hrgrand@hmart.com)
접수기간: 상시채용