About H Mart
H Mart is an Asian-American supermarket chain that has been in business for over 30 years, specializing in Asian and Western groceries, fresh/frozen meats, seafood and produce.
66 H Mart stores in 12 states are operated by five modern warehouse/distribution centers, one primary food processing facility, and over 4,500 passionate employees that have supported each store every day.
Job Title: Project Coordinator
About this Job
Job Responsibilities, but not limited to the following:
Create project construction goals, execution plans, schedules, and procedures and performance standards within the boundaries of corporate policy.

Provide overall administration and accountability for the planning, coordination, and execution of all construction-related activities.

Establish and oversee all project construction cost estimates and construction schedules.

Monitor the subcontractor bidding process and evaluate all bids received, recommending selected subcontractors/ suppliers to the project team. Responsible for negotiating the final aspects and terms of all subcontracts and purchase orders to assure that scope included meets project requirements.

Responsible for the project construction budget and coordinate the project design staff in evaluating and selecting building materials, systems, and methods of construction.
Qualifications:
Candidates must be eligible to work in the U.S.

Bachelor's degree in Architecture or related field preferred

CAD and Revit software experience preferred
How to Apply
Please send your resume to hrgrand@hmart.com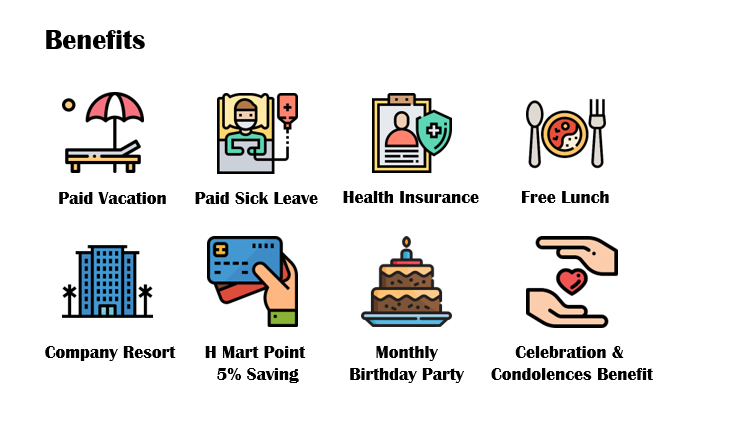 근무 상세 내용
고용형태: 정규직
지역: 뉴저지
근무요일: 주 5일(월, 화, 수, 목, 금)
근무시간: 09:00 am ~ 06:00 pm
급여: 면접 후 결정
취업비자 스폰서 가능
접수방법 및 기간
접수방법: 이메일 (hrgrand@hmart.com)
접수기간: 상시채용