About H Mart
H Mart is an Asian-American supermarket chain that has been in business for over 30 years, specializing in Asian and Western groceries, fresh/frozen meats, seafood and produce.
65 H Mart stores in 12 states are operated by five modern warehouse/distribution centers, one primary food processing facility, and over 4,500 passionate employees that have supported each store every day.
Job Title: HR Generalist
About this job
H Mart is looking for a detail-oriented and passionate HR Specialist. S/he will be in charge of H Mart internship including hiring, managing J-1 visa documents, evaluation, etc. Also, S/he will manage the hiring process of headquarter employees from reviewing resumes to new employee onboarding. This job gives you the opportunity of growing yourself and your career.
Responsibilities, but not limited to the following:
Full cycle recruiting and managing H Mart internship. Contact to J-1 internship agencies, review resumes, conduct interviews, manage J-1 visa document follow-ups, conduct evaluations, and other related jobs.

Full cycle recruiting and interviewing assistance. Maintain job posting sources, phone screen, conduct interviews and coordinate with hiring managers, reference and background checks.

Coordinate and execute all aspects of bringing onboard a new employee including scheduling orientation, preparing new hire packets, collecting and processing new hire paperwork, interfacing with payroll/benefits.

Ensure compliance with all applicable federal, state and local employment, pay and workplace laws and regulations. Partner closely with Legal, Payroll to establish alignment and respond to compliance inquiries.

Provide support in all HR – related disciplines, including, but not limited to, staffing, organizational development, employee relations, talent management, organizational redesign, and performance management and employee development.
Job Qualifications:
Candidates must be eligible to work in the U.S.

Bachelor's degree in the related field is required

Experience in Human Resources is preferred

Bilingual in Korean and English is preferred

Basic knowledge of COBRA, diversity/EEO, FMLA, and related state and federal regulations is preferred and must have a strong intellectual curiosity to stay informed against complaint with employment laws and HR practice

Strong employee relations, attention to details, and communication skills across all levels of the organization
How to Apply
Please send your resume to hrgrand@hmart.com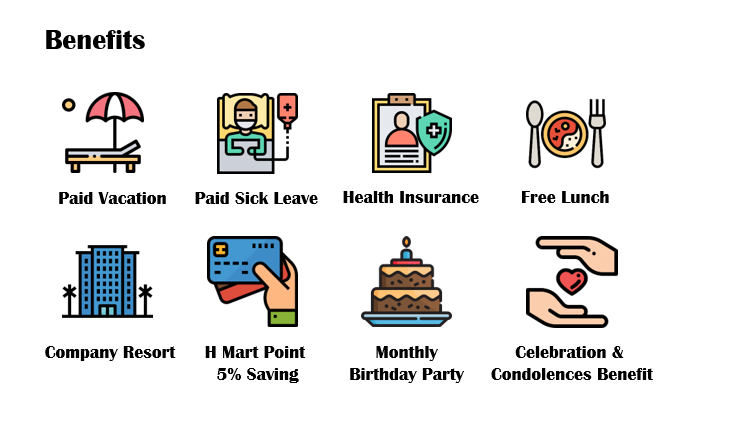 근무 상세 내용
고용형태: 정규직
지역: 뉴저지
근무요일: 주 5일(월, 화, 수, 목, 금)
근무시간: 09:00 am ~ 06:00 pm
급여: 면접 후 결정
접수방법 및 기간
접수방법: 이메일 (hrgrand@hmart.com)
접수기간: 상시채용