About H Mart
H Mart is an Asian-American supermarket chain that has been in business for over 30 years, specializing in Asian and Western groceries, fresh/frozen meats, seafood and produce.
65 H Mart stores in 12 states are operated by five modern warehouse/distribution centers, one primary food processing facility, and over 4,500 passionate employees that have supported each store every day.
Job Title: Assistant Category Buyer (Produce)
About this job
H Mart is looking for competent and passionate buyers for produce items. S/he will be trained to purchase fruits and vegetables effectively from a produce market for H Mart stores.
Responsibilities, but not limited to:
Visit a market every day to purchase fresh produce items.

Contact vendors and negotiate the price of produce items.

Create a purchase order and sales order, and follow up until the product is successfully received.

Research current market conditions and share with other team members.

A source at the lowest possible price, while maintaining the highest quality standards.

Manage produce inventories in a refrigerated storage.

Visit stores to monitor and obtain store feedback.

Visit competing stores to monitor item quality and price check.

Administrative works for the Produce department.
Job Qualifications:
Must be able to have great negotiation skills

Must be able to communicate effectively with team members, store managers, and vendors

Constantly work in low temperatures conditions under 38 ℉

Occasionally move produce boxes weighing up to 50 pounds while checking the quantity and quality of items

Must be able to operate a computer and other office productivity machineries, such as copy machine and computer printer
How to Apply:
Send your resume to hrgrand@hmart.com.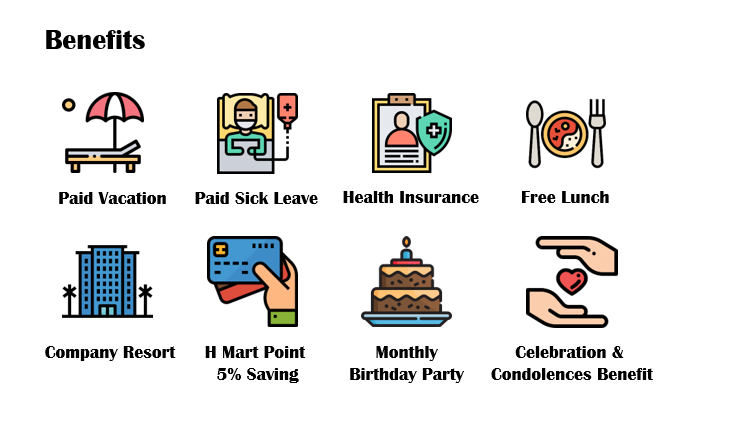 근무 상세 내용
고용형태: 정규직
지역: 뉴저지, 브롱스
근무요일: 주 6일(월, 화, 수, 목, 금, 일)
근무시간: 11:00 am ~ 10:00 pm
급여: 면접 후 결정
취업비자 스폰서 가능
접수방법 및 기간
접수방법: 온라인 접수, 이메일 (hrgrand@hmart.com)
접수기간: 상시채용