About H Mart
H Mart is an Asian-American supermarket chain that has been in business for over 30 years, specializing in Asian and Western groceries, fresh/frozen meats, seafood and produce.
66 H Mart stores in 12 states are operated by five modern warehouse/distribution centers, one primary food processing facility, and over 4,500 passionate employees that have supported each store every day.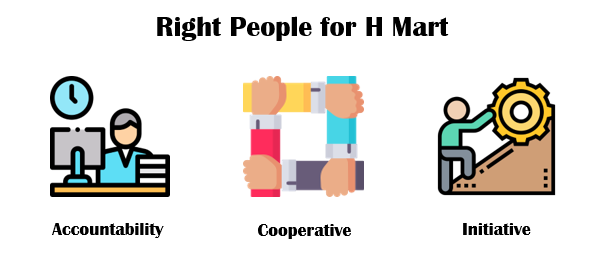 Job Title: Learning and Development Specialist
About this job
H Mart is looking for a detail-oriented and passionate Learning and Development Specialist in the Human Resources Department. S/he will be responsible for initiatives focused on developing talent and fostering a culture of continuous learning for employees at all levels. This position will design and develop effective learning content and programs and assess the impact of those programs from evaluating employee performance. Strong organizational skills, the ability to be flexible, and a positive attitude are important qualities that s/he must possess.
Responsibilities, but not limited to the following:
Analyze the customer, employee, and organization's perspective on their various development insights
Design most ideal workshops, education, coaching, and learning organizations for H Mart
Develop effective Blended learning, hybrid style of education with both online and physical teaching, using H Mart's resources
Travel to various regions of America and lecture in different environments/settings
Create and manage online educational contents as the program's Admin
Evaluate progressive performance to continuously strengthen the L&D program
Job Qualifications:
Candidates must be eligible to work in the U.S.
Bachelor's degree in the related field is required
Must have 1~3 years of experience in the field
Must be fluent in English and Korean language
Must be able to have business trip in the U.S.
Excellent communication, presentation and interpersonal skills required.
Ability to interact with employees at all levels in a team environment is a must.
How to Apply:
Send your resume to hrgrand@hmart.com.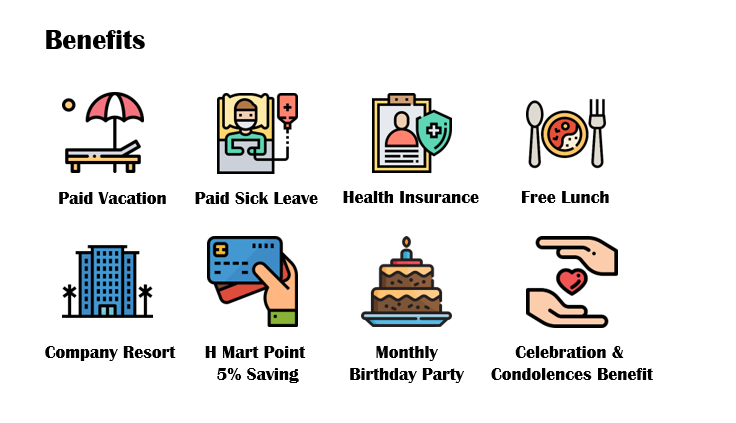 근무 상세 내용
고용형태: 정규직
지역: 뉴저지
근무요일: 주 5일(월, 화, 수, 목, 금)
근무시간: 09:00 am ~ 06:00 pm
급여: 면접 후 결정
취업비자 스폰서 가능
접수방법 및 기간
접수방법: 온라인 접수, 이메일 (hrgrand@hmart.com)
접수기간: 상시채용