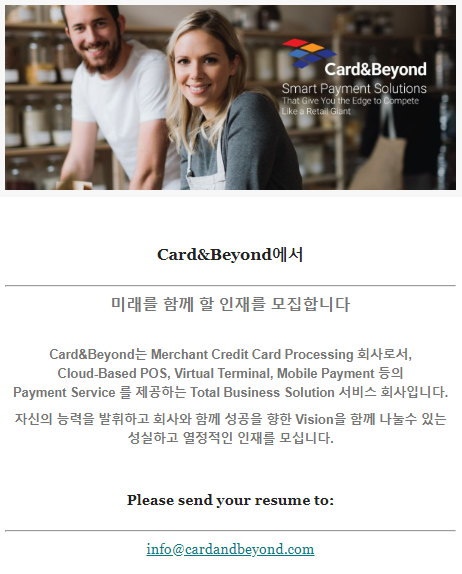 1. Customer Support / Tech Support

Specific Responsibilities will include:
Provide extraordinary client service to merchants via inbound phone calls, email or chat

Respond to incoming customer requests quickly, proficiently and professionally while meeting specific quality expectations

Answer merchant questions and resolves customer support problems related to billing, account management and troubleshooting.

Thoroughly describe and document work using call ticketing systems

Advance tickets to Managers, Technicians, or Partner Groups as needed

Update the ticketing system with current status of all ongoing issues and Merchant Contacts
근무조건
고용형태: Full-time or Part-time

근무요일: 주 5일(월, 화, 수, 목, 금)

근무시간: 9:00 am ~ 6:00 pm

급여: 추후협의

급여방식: 연봉

Medical Insurance

Sick days & Paid Vacation
Qualifications
Must be fluent in English and Korean

Customer service experience preferred

Confirmed commitment to quality and customer service

Excellent verbal and written communications, interpersonal skills, customer orientation, team interaction, problem solving and multi-tasking skills required

Punctual, regular and consistent attendance

Associate or Bachelor's degree preferred
2. Search Engine Marketing Specialist
Position Description:
We are looking for an expert who is experienced in SEM, SEO, PPC, Social Media Marketing, and Digital Marketing
Further details will be discussed during the interview.
Please send us an email with your resume/portfolio attached.
주요업무
Develop and manage digital marketing campaigns across multiple channels utilizing tools and techniques as appropriate including e-mail marketing, SEO and PPC

Executing tests, collecting and analyzing data, identifying trends and insights in order to achieve maximum ROI in paid search campaigns

Tracking, reporting and analyzing website analytics, pay-per-click (PPC) initiatives and campaigns

Managing campaign expenses, staying on budget, estimating monthly costs and reconciling discrepancies

Optimize copy and landing pages for paid search engine marketing campaigns

Perform ongoing paid keyword discovery, expansion and optimization

Research and analyze competitor advertising links

Lead the development of the social media presence

Develop digital marketing program

근무조건
고용형태: 정규직

근무요일: 주 5일(월, 화, 수, 목, 금)

근무시간: 9:00 am ~ 6:00 pm

급여: 추후협의

급여방식: 연봉

Medical Insurance

Sick days & Paid Vacation
지원자격
Proven SEM experience and success managing PPC campaigns across Google, Yahoo and Bing

Experience of digital marketing at strategic and hand on operational level including SEO, e-marketing, social media and analytics

Well-versed in performance marketing, conversion, and online customer acquisition

Up-to-date with the latest trends and best practices in search engine marketing

In-depth experience with bid management tools

Strong analytical skills and experience generating SEM reports

Working knowledge of HTML, CSS, and JavaScript development and constraints

BS/MS degree in Marketing or a related field and minimum 1~3 years of related experience in search engine marketing
근무 상세 내용
고용형태: 정규직, 파트타이머
지역: 뉴저지
근무요일: 주 5일(월, 화, 수, 목, 금)
근무시간: 09:00 am ~ 06:00 pm
급여: 면접 후 결정
취업비자 스폰서 가능
접수방법 및 기간
접수방법: 온라인 접수, 홈페이지 접수, 이메일 (info@cardandbeyond.com)
접수기간: 2019.11.07 ~ 2019.12.31