About H Mart
H Mart is an Asian-American supermarket chain that has been in business for over 30 years, specializing in Asian and Western groceries, fresh/frozen meats, seafood and produce.
65 H Mart stores in 12 states are operated by five modern warehouse/distribution centers, one primary food processing facility, and over 4,600 passionate employees that have supported each store every day.
Job Title: HR Payroll Administrator
About this Job
Entry Payroll Practitioner at H Mart plays an important role in our Human Resources department. This position will process bi-weekly/weekly payroll with compliance to company policy and local, state, and federal laws and regulations. Engage in processing, analyzing, and reconciling payroll activities and serve as a liaison both within and outside the organization on payroll matters. As a member of the HR/Payroll Service Center, the incumbent provides excellent customer service and is committed to advancing.
Responsibilities:
Provides data for auditors and local, state or federal agencies as needed
Analyze, prepare, and input payroll data using Ceridian Dayforce to produce accurate and timely payroll.
Review timecard exception reports and work with management to resolve discrepancies.
Complete payroll calculations for retroactive payroll adjustments, terminations, and other exception processing.
Check, audit, and maintain payroll & timekeeping records in conformance with established standards.
Answer and field incoming calls and email inquiries. Address and resolve employee inquiries relating to direct deposit, check reissue, W-4, PTO accruals, etc.
Exercise discretion on sensitive payroll matters related to paycheck garnishments.
Participation in cross-functional initiatives within the HR Department, when needed.
Respond to all internal and external audit requests for information and supporting documentation.
Plan for and complete end of year payroll tasks timely.
Perform any other related duties as required or assigned.
Qualifications/Skills:
Excellent customer service skills with an ability to effectively handle and resolve employee inquiries and issues
Excellent problem solving/judgment skills, and high level of attention to detail and accuracy
Ability to handle and prioritize multiple tasks and meet all deadlines
Ability to thrive in a fast-paced, deadline-oriented environment
Possess strong organizational, time management, and interpersonal skills
Education and Experience Requirements:
Proficiency with Microsoft Office (Microsoft Excel, Microsoft Outlook)
Bilingual English/Korean is a must
Additional information
Work Hours & Benefits:
MON-FRI, 9:00am to 6:00pm
Health Insurance
PTO
5% Employee Discount on H Mart products
Daily Free Lunch
How to Apply:
Send your resume to hrgrand@hmart.com.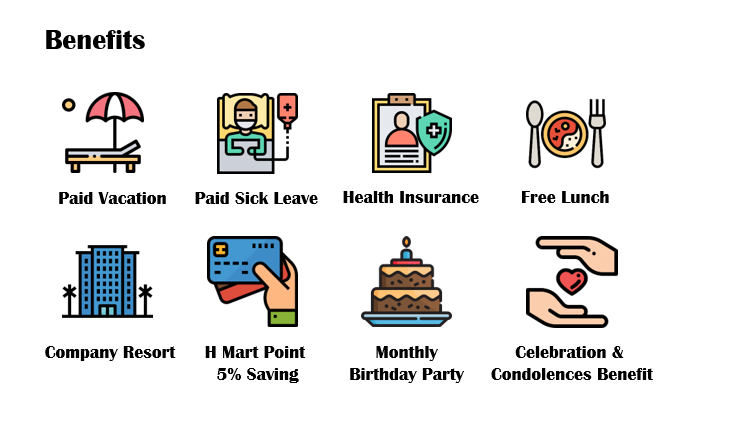 근무 상세 내용
고용형태: 정규직
지역: 뉴저지
근무요일: 주 5일(월, 화, 수, 목, 금)
근무시간: 09:00 am ~ 06:00 pm
급여: 면접 후 결정
접수방법 및 기간