About H Mart
H Mart is an Asian-American supermarket chain that has been in business for over 30 years, specializing in Asian and Western groceries, fresh/frozen meats, seafood and produce.
65 H Mart stores in 12 states are operated by five modern warehouse/distribution centers, one primary food processing facility, and over 4,600 passionate employees that have supported each store every day.
Job Title: Safety Admin
Responsibilities, but not limited to:
Visit each stores and Identify hazardous workplace conditions and conduct internal inspection.
Develop and design the company's health and safety policies.
Train employees on safety policies and procedures, and regulations pertaining to employee safety.
Ensure compliance with all applicable federal and state health and safety regulations and ensures necessary records are maintained and prepared according to established guidelines.
Assist in Occupational Safety and Health Administration (OSHA) inspections, providing inspectors with appropriate documents and identifying safety measures.
Review and follow-up on inspection reports from government agencies such as Health Dept., Consumer Affairs, USDA, FDA, etc.
Completing applications for renewal of various licenses and permits.
Partner with various vendors to provide health and safety related services and manage the contract.
Job Qualifications:
Candidates must be eligible to work in the U.S.
Must be able to drive and have a valid driver license
Be able to complete a 6-week Food Manager's Course and conducted by the Bergen County Department of Health and obtain the certification by passing an exam.
How to Apply:
Send your resume to hrgrand@hmart.com.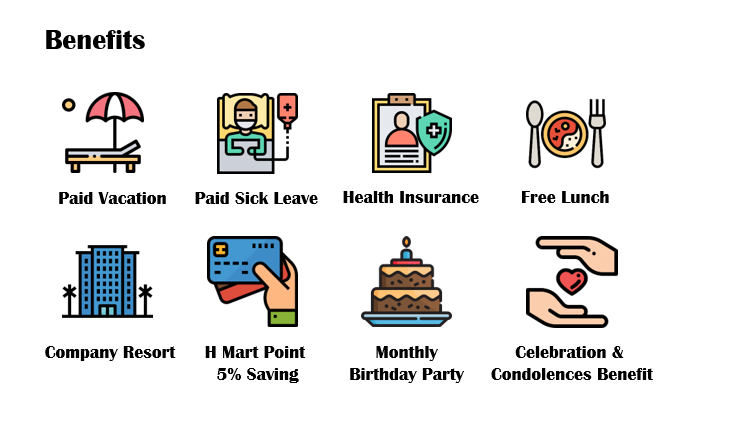 근무 상세 내용
고용형태: 정규직
지역: 뉴저지
근무요일: 주 5일(월, 화, 수, 목, 금)
근무시간: 09:00 am ~ 06:00 pm
급여: 면접 후 결정
접수방법 및 기간
접수방법: 온라인 접수, 이메일 (hrgrand@hmart.com)
접수기간: 상시채용