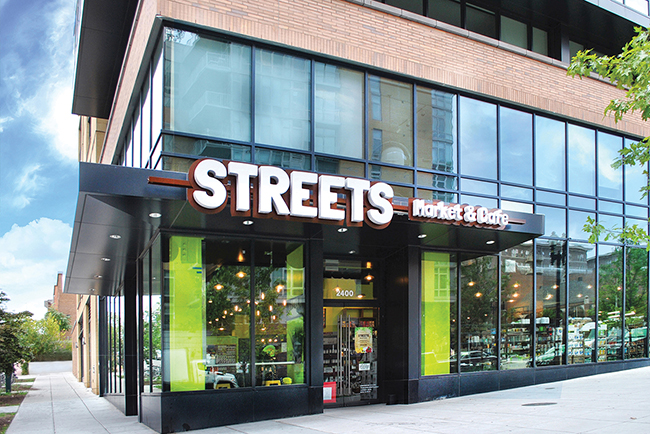 "Streets Market" in District of Columbia is seeking a Accounting Specialist, and Junior Accountant.
Streets Market is a grocery retail store located in the District of Columbia. We are devoted to offer a wide variety of organic, conventional, local, international, and everyday practical goods all under one roof. Currently we operate about 13 branches and a headquarter. The business of HQ is based on B2B based distribution and logistics, which is one of the largest organic, gourmet, and specialty food distributors in Washington, D.C., Virginia, Maryland, and North Carolina area. The customers of the distributions business include supermarkets, grocery stores, delicatessens, convenience stores, gas stations, newsstands, etc.
As a fast-growing company, we embrace creative idea and proactive action and pursuit mutual future success of the company and our staffs.
The Accounting Specialist plays a key role supporting the Accounting Manager and CEO. He/she will be supporting to set up new processes and procedures. In addition to driving organizational change, the Accounting Specialist will be overseeing all day-to-day accounting activities and be responsible for collecting, analyzing, verifying and reporting financial information.
The Junior Accountant will perform various accounting tasks including accounts payable, accounts receivable and payroll. In addition, he/she will be assisting and supporting the accounting team and other areas in the company as needed.
[ Accounting Specialist ]
Qualifications
• Bachelor's degree in Accounting, Business, or comparable
• 3+ years relevant work experience in Accounting
• Experience working in a high-volume, fast-paced, detail-oriented environment
• Strong attention to detail, ability to multitask effective time management and organization skills
• Proficient knowledge of QuickBooks, Microsoft Office applications (Word, Excel, Outlook, PowerPoint)
• CPA or CPA candidate (Preferred)
• Language: English & Korean (Required)
Responsibilities
• Perform overall accounting procedures
• Month end and quarterly closing
• Analyze and reconcile general ledger accounts
• Perform analysis of operations on a monthly basis
• Communicating status of work and issues with seniors, and managers on a timely basis
• Receiving, processing, verifying, and reconciling payable invoices
• Preparing and sending out accounts payable checks
• Answering all vendor inquiries
• Ensuring that all payments are made in accordance with company policy
• Ensuring that all payments are sent on time
• Resolving payment discrepancies and disputes on behalf of the company
• Updating daily sales and invoices
• Visiting assigned markets for auditing
• Preparing internal weekly profit & loss reports
• Preparing internal monthly financial reports
• Preparing payroll and tips and filing & paying payroll taxes
• Updating and maintaining records of expenditures
• Reviewing and analyzing expenses
• Preparing budgets and forecasts
Work Location:
• Multi locations (DC, MD, and VA)
Benefits:
• Health insurance
• Employment sponsorship
This Job Is Ideal for Someone Who Is:
• Adaptable/flexible -- enjoys doing work that requires frequent shifts in direction
• Achievement-oriented -- enjoys taking on challenges, even if they might fail
• Innovative -- prefers working in unconventional ways or on tasks that require creativity
• Detail-oriented -- would rather focus on the details of work than the bigger picture
This Company Describes Its Culture as:
• Detail-oriented -- quality and precision-focused
• Innovative -- innovative and risk-taking
• Aggressive -- competitive and growth-oriented
Schedule:
• Monday to Friday
Benefit Conditions:
• Only full-time employees eligible
Work Remotely:
• Temporarily due to COVID-19
Work Authorization
• Must be eligible to work in US
To Apply
• Send your resume and cover letter to hr_manager@streetsmarket.com
[ Junior Accountant ]
Qualifications
• At least a 2-year associate in Accounting, Business, or comparable
• 1+ years relevant work experience in Accounting
• Experience working in a high-volume, fast-paced, detail-oriented environment
• Strong attention to detail, ability to multitask effective time management and organization skills
• Proficient knowledge of QuickBooks, Microsoft Office applications (Word, Excel, Outlook, PowerPoint)
• Language: English & Korean (Required)
Responsibilities
• Performing daily accounting activities including reconciliations of bank accounts
• Communicating status of work and issues with seniors, and managers on a timely basis
• Reconciling cash deposits and expenses
• Receiving, processing, verifying, and reconciling payable invoices
• Preparing and sending out accounts payable checks
• Answering all vendor inquiries
• Ensuring that all payments are made in accordance with company policy
• Ensuring that all payments are sent on time
• Resolving payment discrepancies and disputes on behalf of the company
• Updating daily sales and invoices
• Visiting assigned markets for auditing
• Assisting to prepare internal weekly profit & loss reports
• Assisting to internal monthly financial reports
• Preparing payroll and tips and filing & paying payroll taxes
• Updating and maintaining records of expenditures
• Reviewing and analyzing expenses
• Assisting in preparing budgets and forecasts
Work Location:
• Multi locations (DC, MD, and VA)
Benefits:
• Health insurance
• Employment sponsorship
This Job Is Ideal for Someone Who Is:
• Adaptable/flexible -- enjoys doing work that requires frequent shifts in direction
• Achievement-oriented -- enjoys taking on challenges, even if they might fail
• Innovative -- prefers working in unconventional ways or on tasks that require creativity
• Detail-oriented -- would rather focus on the details of work than the bigger picture
This Company Describes Its Culture as:
• Detail-oriented -- quality and precision-focused
• Innovative -- innovative and risk-taking
• Aggressive -- competitive and growth-oriented
Schedule:
• Monday to Friday
Benefit Conditions:
• Only full-time employees eligible
Work Remotely:
• Temporarily due to COVID-19
Work Authorization
• Must be eligible to work in US
To Apply
• Send your resume and cover letter to hr_manager@streetsmarket.com